Services & Techniques
---
Manual Adjustment
This highly effective and painless approach – the most commonly used and most familiar among patients – entails a high-velocity, low-amplitude thrust that returns joints to their normal function, often providing immediate relief. Dr. Nance has safely performed more than 2 million manual spinal adjustments.
---
Activator Methods™
This extremely effective treatment uses a small, hand-held instrument to deliver a gentle impulse to the spine. Dr. Nance has maintained an Advanced Proficiency rating in Activator Methods System for more than two decades, and is the only chiropractor in the Asheville area — and one of only a handful in the state — to hold the designation. He uses the Activator Methods to adjust all joints of the body, including cranial and facial bones to address sinus issues.
---
Thompson Technique
This technique uses a special table with several segments (drop pieces) that can be cocked up a fraction of an inch, so when the thrust is delivered, the table will drop this fraction of an inch to open the joint during the adjustment.
---
Graston® Technique
This is a unique form of instrument-assisted soft tissue mobilization that effectively and efficiently releases soft tissue lesions of the fascia. GT uses specially designed stainless steel instruments with unique treatment edges and angles to deliver an effective means of manual therapy.

---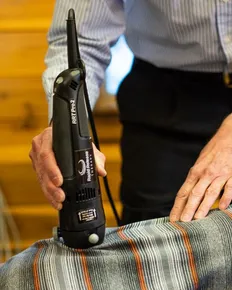 Rapid Release Technology
This technique uses a tool to send vibrations at an optimal frequency of 170 hertz, which increases flexibility and pliability of the muscles and other tissues, boosts circulation, and aids in neurostimulation of the brain, which helps to lengthen and soften muscles. Rapid Release is especially effective for arms, wrists, hands, legs, ankles and feet.
---
Extremity Manipulating/Adjusting
This is the application of chiropractic manipulation/adjustment to joints other than those of the spine, i.e., shoulder, elbow, wrist/hand/finger, hip, knee, ankle/foot/toe.

---
Digital X-rays
Dr. Nance offers digital X-rays, of which there are a number of advantages. Images can instantly be seen and are of significantly higher quality than conventional film-based radiology or X-rays. Digital X-rays can catch small fractures that may go undetected with film. In addition, digital X-rays can reduce radiation exposure by 75% or more, are safer for the environment since they don't use chemicals, and can be shared with other practitioners much more quickly and efficiently.
---
Active Muscle Stretching
Done by hand, this approach has the patient move through ranges of motion while pressure is applied to the muscles, releasing adhesions/scar tissue.
---
ArthroStim®
A pulsing instrument combines gentle adjustment with pulsing massage, effective for pain relief and increased mobility.

---
Posture and Spinal Screenings

Posture and spinal screenings by Dr. Nance can help reveal important information about your body, unlocking the door to improved health and well-being. To make chiropractic care more accessible, Dr. Nance provides screenings at area malls, community events, health fairs and places of employment. Contact the office at (828) 645-2526 to arrange a screening at your event or workplace.
---
Therapy Tables
Before or after a session with Dr. Nance, patients can enjoy the use of a hydrotherapy table (flotation, heat and massage), an intersegmental traction (or roller) table, or a motion cervical traction (gentle neck stretch) system. These machines help to relieve pain and pressure on discs, nerves and muscles and are the perfect complement to chiropractic care.